The pattern of prayer and praise normally used in our worship of God is set forth in the Book of Common Prayer. As such, our liturgy retains ancient structure and traditions.
We celebrate Holy Communion, the Eucharist, each Sunday. Holy Communion may be received by all baptized Christians, not only members of the Episcopal Church.
We have two foundational creeds, or statements of our basic beliefs in God, that are used during worship: The Apostles' Creed used at baptism and daily worship, and the Nicene Creed used at communion. From the Latin term credo, meaning "I believe", the creed unites us with Christians across the world and throughout the ages in affirming our faith.
Who are the ministers of the Church? The ministers of the Church are lay persons, bishops, priests, and deacons.
What is the ministry of the laity? The ministry of lay persons is to represent Christ and his Church; to bear witness to him wherever they may be; and, according to the gifts given to them, to carry on Christ's work of reconciliation in the world; and to take their place in the life, worship, and governance of the Church.
– An Outline of the Faith, Book of Common Prayer, pg. 855.
Liturgy means the work of the people. Listed are brief descriptions of the many opportunities for your involvement in the liturgical life of Trinity Church. Please speak with the rector or a warden for more information.
Acolytes: youth and adults participate in this sacramental ministry at Trinity by serving as acolytes, crucifers, and torch bearers.
Chalice Bearers: persons are carefully chosen for this particular ministry. Licensed by the Bishop, chalice bearers assist clergy in delivering the chalice at the Eucharist.
Lectors and Intercessors: Lay readers are trained to read the appointed lessons during worship. Intercessors lead the congregation in the Prayers of the People.
Ushers and Oblation Bearers: ushers greet parishioners and visitors to the church. This responsibly includes assisting persons to seating, collection of the offering, directing the congregation to the altar for communion. During many services, ushers also serve as Oblation Bearers. By representing the congregation, ushers bring the bread and wine to the altar for communion. This act symbolizes the offering of our lives and works to God.
The Altar Guild is responsible for preparing the church for our worship. Members prepare the altar, eucharistic vessels, hangings, and linens for each service.
The Flower Guild is responsible for altar flowers and others arrangements for use during services.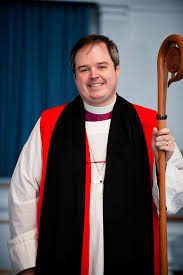 Sean Rowe
Bishop Provisional of Western New York